Katie Tulipano, DMD
I am passionate about making real, genuine connections with patients. I find the most joy when I am able to help a patient with dental anxiety have a good appointment. It's a personal goal of mine to try to get a true laugh out of each of my patients. Smiles can be faked, but it's harder to fake a laugh!
I love teaching my patients that dentistry doesn't have to be as terrible as they may remember in the past. My job goes beyond treating teeth; it also about creating experiences. Experiences are what can make it or break it for a patient to decide to take oral health seriously. I try very hard to bring a little fun to the experience but I am honest with myself: I understand that I'm a dentist, not Disneyland, and sometimes achieving tolerable is a really great thing too!
At the end of each day, I hope that my passion for dentistry was a little bit contagious and inspired my patients to be as excited about their oral health as I am.
Education and Continuing Education
I attended the University of Florida for my undergraduate degree, and majored in zoology because I thought I wanted to be a veterinarian. I actually performed my very first dental cleaning on a dog way before I ever considered going to dental school! I graduated with my Doctorate of Dental Medicine from the University of Florida College of Dentistry in Gainesville. GO GATORS!
I love learning, knowing WHY things happen, and being able to educate my patients to avoid future problems and fix current ones. This is where continuing education comes in. I participate in local study clubs, attend lectures, read dental journals and magazines, watch webinars, and participate in self-study continuing education. I find it so amazing how fast we can learn and share information. But that's the awesome part: I know I will never get bored because there is always something new to learn, to improve upon, and to master!
Dental conventions are so much fun, the highlight being the Hinman Dental Society Meeting in Atlanta. I've been to it nearly every year. One of the many perks to Atlanta is the Atlanta aquarium. They have whales there! If you've never been, it's a very cool thing to go see.
Outside the Office
I was born in Grand Rapids, Michigan. My family moved to Bradenton when I was in middle school and still lives in the area. I was so happy that I was able to transition into ownership of Dr. Leslie's office; it had been a goal and dream of mine for some time to own my own practice in Bradenton.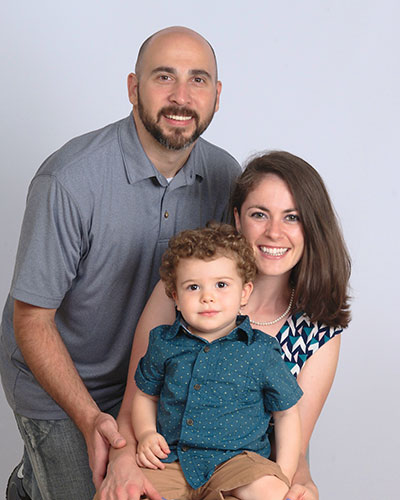 My husband David and I live in Bradenton. David works for Graham Packaging as the lead trainer on industrial machinery, maintanance, and repair. That automatically makes him our #1 go-to man for repairs around the office - well that and because he's so hansdome =)
Our son Joey has been an amazing adventure: surprising us in so many ways we never imagined. Joey like his father, loves everything cars. Fast cars, old cars, paper cars, sticker cars, even imaginary pretend cars. He is so creative! I love the time I get to spend with him being mommy.
We have fur babies,too: two cats and two dogs. They all get along very well, napping together and even playing together. These days they all have one thing in common, keeping up with Joey!
As a family, we like to stay active. We love to walk around the Lowry Park Zoo and the Florida Aquarium. We love biking and hiking through Florida's natural parks. Joey is now old enough to ride his very own bike. These days roles are reversed - it's us saying "hey wait up" instead of little Joey.
We do a lot of family story time. Joeys current favorite is "How I met my Monster" by Amanda Noll. A unique positive spin on monsters under the bed.
I also love gardening. I have many flower and shrub gardens around the house. I find it very therapeutic to be out in the sunshine and working in the garden. My husband jokes that I'm not allowed to go to Lowes unsupervised because I come home with too many new plants!
Last but not least, we love to laugh. We love comedies; we like to watch stand-up on Netflix and periodically attend live shows at the Tampa Improv Comedy Theater.